Thinking Of Getting A Photo Booth For Your Wedding?
A wedding photo booth creates a fun, meaningful way to document your big day. It provides entertainment and an intimate connection with your guests. But not every photo booth rental delivers the same experience. In fact, some can do more harm than good (think: technology fails, damage, and unwanted photos).
So, how do you make sure the photo booth at your wedding is a hit and not an epic failure? Let's take a closer look.
Figure out your wedding must-haves

Setting your event photo booth up for success

DIY photo booth — what can go wrong?

Do your research (yes, more research!)

Here for you in Southeast Michigan
Figure Out Your Wedding Must-Haves
You want your wedding to be seamless, memorable, and fun. But these things don't happen on their own. To help things run as smoothly as possible, you'll need a list to organize everything from invitations and flowers to food and music.
Keep in mind that not every tradition needs to be included in your big day. Perhaps you want to forgo the formal, printed invitations or the giant wedding cake? As you eliminate things that feel more like an obligation, you'll create more room for the things you want.
In the last several years, more and more couples have chosen to include a photo booth in their wedding reception. Wedding photo booths are notoriously fun, after all. They can bring your wedding guests together in a way no other photo opportunity can.
If a photo booth is on your list of must-haves, you've come to the right place. At Michaels Entertainment, we are serious about photo booth fun. There's something about using a small prop and posing with a group that acts as a perfect icebreaker, an ideal bonding experience.
While your guests have a blast, posing and choosing their favorite shots to print and keep, you might be busy, elsewhere in the room. Even if you can't be there for every moment of the fun, you'll have access to all the photos, after the event.
Let's dive into the details — what makes a wedding photo booth work well?
Setting Your Wedding Photo Booth Up For Success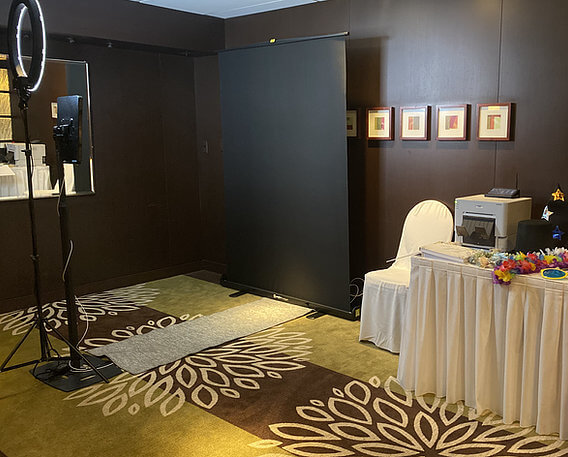 Once you've decided to make a photo booth rental part of your wedding, it's important to help it succeed. You want your guests to have fun, but you also want some great pictures to help document the less formal parts of your big day.
Your wedding guests are more likely to share a fun, casual side of themselves with an event photo booth. To help them take the best pictures, you want the experience to be as easy as possible. You need your guests to feel comfortable and safe, as well.
To start, choose a location at the venue that is easily found or identified. There's no point in paying for a photo booth rental if it's hidden upstairs and nobody knows it's there.
Next, make sure you have enough room. A wedding photo booth needs a little elbow room — enough space for a prop table, a backdrop, lighting, and other equipment. Avoid stuffing it into a hallway if there isn't enough space around it. Usually, the corner of a larger room will work well.
Finally, you'll need to decide — do you want a DIY photo booth rental, where guests manage their own setup and photos or do you want a hosted solution with high-end props and supervised quality?
First — let's take a deeper dive into DIY photo booth rentals. Buckle up — you may be surprised to find out how many things can go wrong!
DIY Wedding Photo Booth — What Can Go Wrong?
Yes — we're kidding. Unfortunately, there are plenty of things that can go sideways with a DIY solution. Despite the temptation of paying only for the equipment piece of a photo booth rental, it is important to know the risks.
Here are a few things that can go wrong with a DIY photo booth:
Technology — Let's face it, technology can ruin a perfect day. If you've rented an equipment-only photo booth and the printer jams or other technology fails, your photo booth will be out of commission. A hosted solution allows for immediate tech support, with backup supplies on hand.
Safety — Without a host to help manage the flow of people and props, your wedding guests can be at risk of tripping on props or equipment. This is especially true as the evening goes on, as the props slide to the floor and guests have had more to drink.
Damage — Whenever equipment is left unattended, there is a greater risk for damage. Renting only the equipment for a photo booth leaves you at greater risk that your guests could damage the camera, lighting, or printer, leaving you to pay the bill later.
Content — Unfortunately, the combination of alcohol and a camera can lead to unexpected consequences. Your guests may forget that digital copies will be sent to the newlyweds. Either way, you may end up with a series of inappropriate photos—more memories than you wanted from your wedding day.
See? We told you to buckle up!
The short of it is this — while it may be tempting to rent only the equipment for your wedding photo booth, you could be leaving yourself at risk for disappointment and extra costs.
So, how do you make sure your wedding photo booth is a hit, for both you and your guests? It's as simple as finding a trusted hosted solution, like the one we provide at Michaels Entertainment.
If you are in the Southeast Michigan area, we would love to speak with you about a photo booth rental for your event. If you are farther away, we'll give you a few hints about what to look for in a local vendor.
Do Your Research (Yes, More Research!)
If you are a newly engaged couple, you know that wedding planning is no small feat. Even with a solid to-do list, there is plenty of research to be done and phone calls to be made.
Rest assured, once you have your trusted vendors lined up, things will get easier, at least until the week or two before your wedding.
Here are a few questions to ask a potential vendor for a photo booth rental:
Will you have someone onsite, during my wedding?

Can I speak to previous customers?

Do you have videos of your photo booth in action?

How much space will I need to dedicate to the photo booth area?

How long have you been in business?
Armed with a few questions, you're sure to find the right vendor for your wedding photo booth rental.
Here For You In Southeast Michigan
At Michaels Entertainment, we serve Detroit and the state of Michigan with first-class service. We're proud of the awards and recognition we have received, including more than 400 5-star ratings for our wedding services.
Contact us to talk about your wedding day. We'll help crank up the fun at your wedding reception, with the peace of mind of a hosted photo booth.
Michaels Entertainment
2652 Renshaw Dr. 
Troy MI 48085 
(248) 462-7131